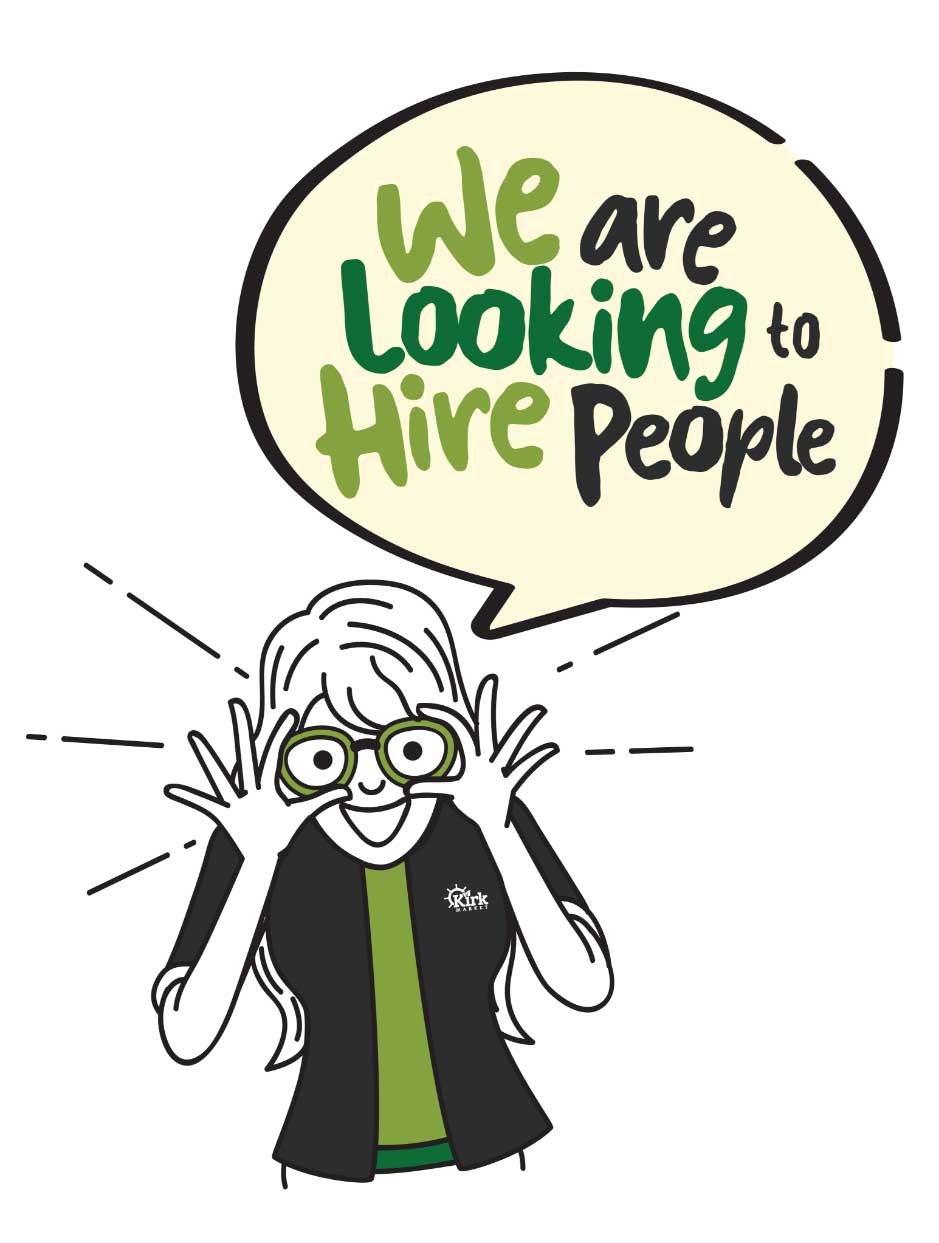 WHAT MAKES US
Kirk Market is a friendly, supportive workplace that offers competitive wages, employee discounts, training and development opportunities, and great benefits.
WE ARE LOOKING FOR
Outgoing, friendly team members who can offer outstanding service to our customers and a helping hand to co-workers.
People who are open to working early mornings and/or evenings and at least one weekend shift per week.
Team members who enjoy working in a fast-paced retail environment.
Team members who have a passion for great, healthy food and support our locally produced items.
Our work culture at Kirk Market is something exceptional; you can actually feel the friendly, welcoming environment when you walk through our doors. Our Team Members have a vision of unity and working together to build trust and empowerment between all colleagues. Individual differences of our incredibility diverse staff are recognized, embraced and honored. We strive to cultivate a healthy sense of community and to delight our customers. We encourage Caymanians to come join our team and grow with us!
We care about our people and work hard to create an empowered learning environment that promotes self-motivation, and we encourage Team Members to take responsibility for their own success.
We encourage all qualified Team Members to apply for any open positions as they expand their product knowledge, develop their skills, enhance their value to their teams and Kirk Market.
What to Expect When Interviewing
The great majority of candidates who interview for a position at Kirk Market report a positive interview experience. Candidates can look forward to a reasonably simple interview procedure composed of a face-to-face interview with a HR professional and Department Manager. Those interviewing for administrative and managerial positions may find a comprehensive interview procedure that includes a panel interview and/or a talents test.
Think you have what it takes to join our team? Applicants should submit a fully completed application online, which will be sent to the HR department. Only qualified candidates will be contacted for interviews. No candidates will be seen without a scheduled appointment.