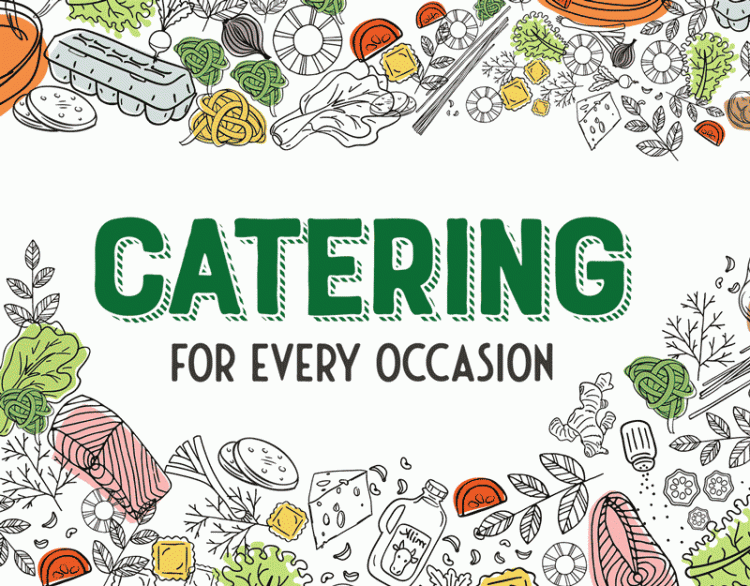 Let us help make your event delicious, beautiful and easy. Whatever your event, whether it's a business meeting, a cocktail party, or a wedding, we are committed to providing you with the finest food.
Hors D'oeuvres Menu
Our Gourmet Appetizer menu offers a large variety of options from simple to elaborate, all gourmet and tasty to suit any gathering or party.
Custom Menus
Our custom themed menus can match any dish that's available on our Mediterranean or hot bar menu and, like platters, can be picked up without the need for staff and rentals. Because these are custom creations, we'll need a bit more time to plan and minimums are higher than for our platters menus. Please contact us with details.
Gourmet Platters
We all love a good party – it's great to get together and enjoy good food. In fact, the only downside is the thought of catering. But thanks to Kirk Market's brilliant entertaining service, there's no need to spend hours in the kitchen. Perfect for every event, our tempting range includes sandwiches, wraps, snacks and desserts. Order online and choose a time for collection, then all you need to do is pick up your goodies and enjoy your party! Kirk Market's gourmet platters are not only convenient, they're really tasty and well presented, too – so you can give your guests the wow factor without lifting a finger. And with a huge variety of mouthwatering treats, there's something for absolutely everyone.
Cakes for Any Occasion
What's a celebration without a cake? Let the Kirk Market Bakery create a custom cake just for you. We work with you to customize your cake to your specifications. Your life's special events are important, and as such, your cake should be extraordinary. We can decorate any size of our speciality layer cakes or build a custom cake as you wish!
For full details on what options are available, including the various sizes and frosting and filling types, please contact us using the form below or visit the Kirk Market Bakery for details. To ensure availability, please place your order at least 48 hours in advance. Pricing is based upon the complexity and size of the cake and the difficulty of the design.
Ordering Guidelines:
All orders for next day pickup must be placed the prior day before 1:30pm (eg. for Tuesday pickup, place order before 1:30pm on Monday). PLEASE NOTE: Orders required for Monday pickup must be placed by Saturday before 1:30pm.
Please call ahead for seasonal specialties and consultations
If you have any dietary restrictions please let us know
Credit card is required for order confirmation
Twenty-four hours notice is required to cancel orders
Menu and prices are subject to change
Disposable tableware is supplied for an additional charge
Questions? Please contact us at 345-949-7022 ext 145 or email us at del[email protected]. Alternatively, you can use the contact form below.